One of my main aims, in monitoring references to Thucydides on the Twitter, is to keep a sense of proportion. Partly this is about relative scale: fifteen fake quotations in a day is a lot, relative to normal traffic in this area – but given that over 6,000 tweets get fired off every second, it's thoroughly negligible in the greater scheme of things. Similarly, it's about remembering that my view of this is very odd; for me, a tweet may be the sixth tedious repetition of the misattributed 'Scholars and Warriors' quote that afternoon, but for the person tweeting it this is generally the first time they've done it, having found a really neat quote that sums up the point they want to make perfectly. Even with that annoying Social Jukebox system I aim to stay civil unless it's from a user whom I've attempted to correct many times and so I know they won't pay any attention anyway, and if there's the faintest possibility that I'm dealing with a real person tweeting in good faith, I do my best to interact in the spirit of truth, not snark.
It's important to discriminate, to identify degrees of culpability. Someone who saw Wonder Woman and liked the "Peace is just an armistice in an endless war" line: fine, gentle correction. The scriptwriter who attributed that line to Thucydides despite being told that it wasn't genuine: well, it's been a pain in the neck, but this is fiction rather than history, and it is at least another example for exploring the popular image of Thucydides. The publicity machine for Graham Allison's Destined for War? book, which makes great play of its expert understanding of Thucydides, developing a "Wonder Woman knows Thucydides; how about you?" image; deeply unimpressive.
Or take the W.F. Butler "Scholars and Warriors" quote; this has been misattributed to Thucydides for at least a couple of decades, and therefore now appears on many internet quote sites (despite my writing polite requests for it to be taken down) and in printed anthologies, so despite the fact that Thucydides' Wikiquote page explicitly identifies it as a misattribution, it's entirely reasonable to assume that someone quoting this for the first time is doing so in all sincerity. The aforementioned social jukebox and associated accounts? Not so much. The House Armed Services Committee's 2010 report on professional military education? Basic incompetence, not least given that this report was explicitly a follow-up to the 1989 Skelton Report that quoted William F. Butler correctly. And as for this…
As I've remarked before, I'm not a big fan of the Landmark Thucydides; great maps and contextual information, but there are so many issues with Richard Crawley's translation – as Mary Beard once remarked of it in a review, the more memorable the phrase, the less likely it is to be genuine Thucydides – that perpetuating it through this reader-friendly volume is deeply unhelpful. But it's whole heap more unhelpful for a website associated with a scholarly enterprise also to lend credence to this quotation. It raises the prospect of what the mighty XKCD labelled 'citogenesis', albeit in this instance with Wikipedia entirely blameless…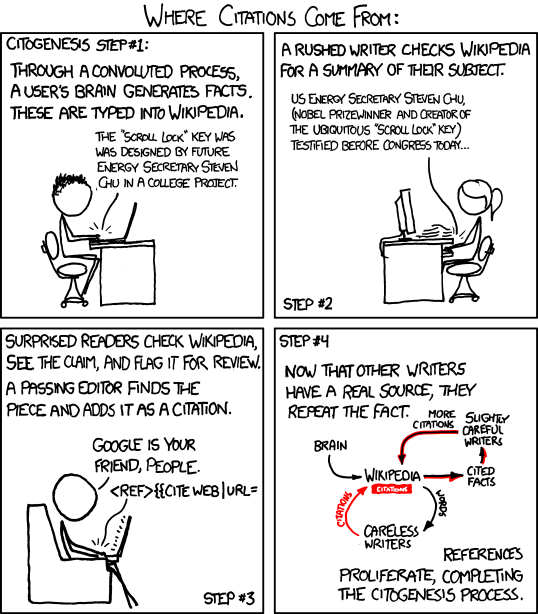 The Landmark Histories website doesn't have any sort of contact email; I've written to Robert Strassler's literary agents, in the hope they will pass on a message. It seems entirely likely that this was a bit of enterprise from whoever he hired to produce the website, rather than his own work – but that doesn't alter the fact that a Thucydides translation is being advertised with a quotation that anyone besides a few pedants (plus the people who've already encountered the @Thucydiocy bot) will naturally assume to have come from the translation itself. And if the quotation *does* come down, I'm claiming it as impact…
Update 5/2: delighted to report that I've just had an email from Bob Strassler to say that he hadn't seen the quote on the masthead before but it will be changed forthwith. Success!